We're so pleased you love our American Natural Superfood!
Here's where you can order more...
[php snippet=24]
Dear Truly Valued Customer,
We're so glad that you love our American Natural Superfood and would like to order more. As a quick reminder, if you'd like to easily:
Take advantage of one of the most effective diet systems for weight loss
Have a store of our healthy, protein-rich drink in case of an emergency or for when the SHTF

Regain your youthful energy

so you have the freedom to do what you want to do
Eat healthy, delicious proteins and vital nutrients for a fraction of the cost of buying these foods separately
Maintain a healthy heart, cholesterol levels and blood sugar levels naturally
Strengthen your immune system so you can

avoid getting sick

Regain your mental clarity
Have a healthy meal FASTER than fast food
Have a portable protein-rich drink that you can easily store and take anywhere
Then this is the perfect product for you:
American Natural SuperFood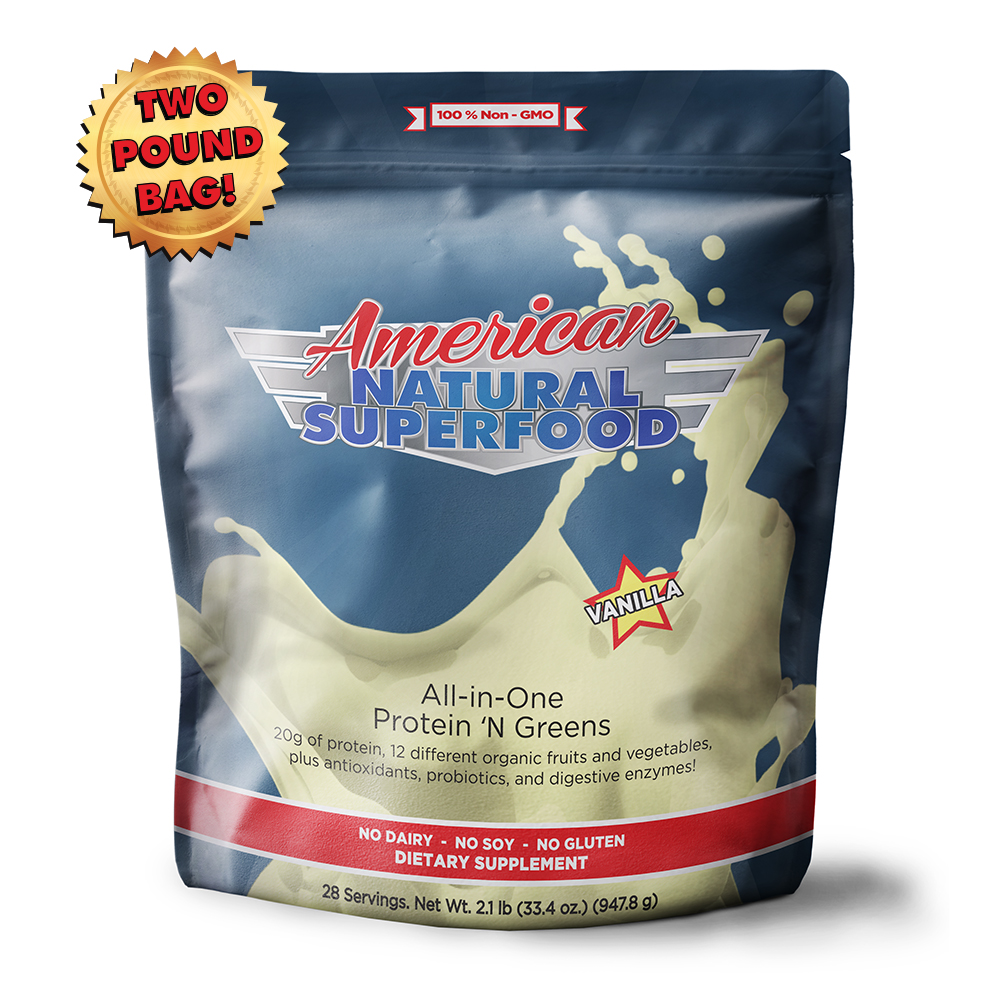 The Affordable and Convenient Way to Get Protein, Vital Nutrients, and the Natural Supplements You Need in One Meal – Now in Delicious Vanilla Flavor!
Never before has one formula contained so much protein AND essential, natural nutrients.
"Thank you so much… that is what I call excellent service… I am enjoying your product and I am successful loosing weight and will recommend it to several people.

Two pounds in four days, with hardly any effort. Thanks again!"
Penny Adams, Pearland TX
…And it's made right here in our US mixing facility. (Have you ever wondered where those other supplements are made?)
It was important to us that we keep our product, the jobs it would provide, and the quality we could ensure right here in America.
Each bag is one month's supply (28 servings, 32 oz, which is TWO POUNDS) of delicious and complete protein-and-greens, in one delicious vanilla-flavored drink.
Re-order your 'Fountain of Youth Package' Below, Just Choose Which Option Below is Best for You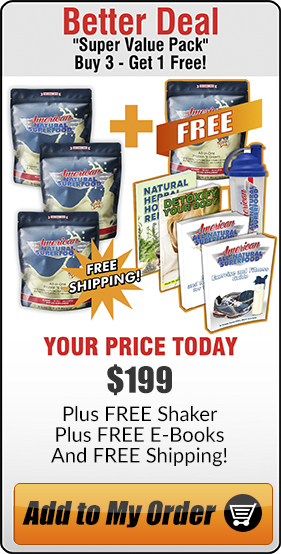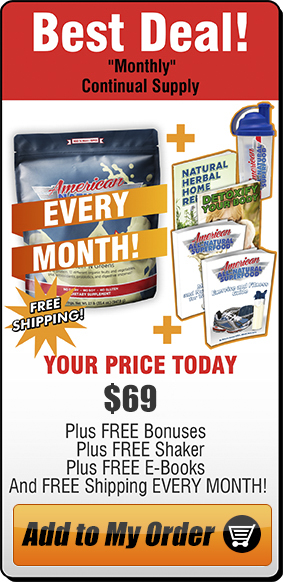 Now In Stock!  Get Yours While They Last!
"Thanks for getting back to me so quickly about my transaction…

I would also like to add that I have a sense you are running a very thorough and thoughtful operation.

In addition to the fantastic product, I really appreciated the follow up emails I received after our first order. They kept me informed on when to expect delivery (without having to ask) and re-explained your product's benefits and reason for those benefits without just being more marketing.

Finally the instructions and suggestions you included in the box with the product were very helpful and showed a real sense of empathy and a connection with your new customers… right down to where to find the scoop and how to dig it out!

Thanks again for your great product and great customer service."
Bob Bennett, Wilmette, IL
Plus, if you upgrade, I'll include these one-time only bonuses for anyone ordering today:
Bonus #1: FREE American Superfood Shaker (normally $9.95)
This FREE shaker allows you to:
Put in one scoop of American All-Natural Superfood
Whichever liquid you prefer: water, almond milk, milk
Lightly shake and mix.
The "mixer ball" inside does all the hard work for you, easily blending the mix into a smooth, delicious shake.
This is perfect for when you're on the go, driving, or even heading into the woods.
Bonus #2: FREE Ebook Natural Herbal Home Remedies (normally $27)
This 82-page guide is packed with information, tips, and tricks that will help you:
Reduce medical costs so you have more money to spend on the things YOU want
Be in control of how you want to use your health items. If you like drinks and teas, aromatherapy, or external rubs – there are many options – so you can enjoy you can have natural treatments that are the way that YOU like.
Uncover the 12 stress reducers so you can sleep better at night, enjoy your day, and slow the aging process.
See what gives you more energy, removes pain, and cures those nagging ailments naturally, with things that are probably already in your cabinet
Find a fix for you particular health problem with our comprehensive A-Z guide breakdown. Each aliment has multiple natural herbal home remedy solutions.  So now you can finally feel better WITHOUT those expensive and horrible prescription drugs.
Be prepared for any emergency or survival situation with natural herbs that are inexpensive and or even FREE if you grow yourself.
Here are only a few issues that you can address with this guide:
High Blood Pressure
Insomnia
Memory Loss
Indigestion
Stress
Eyestrain
Cataracts
Burns
…and that's just the tip of the iceberg…
Bonus #3: FREE Ebook Detoxify Your Body (normally $10)
This one-of-a-kind, 25-page FREE guide will show you:
Boost your Energy – So you can garden, play with your grandkids, and get together with friends
Lose some Pounds – So you look great, feel better, and make it easier on your heart
Build your Immune System – So you stay healthy all year long
Have Better Looking Skin – Slow down wrinkles, have that youthful glow
Think Clearly – Stay on top of your day.
And Much More – Better breath, Anti-Aging Benefits, Generally Feel Better.
Inside this guide you'll learn:
What is Detox: Learn the various methods of detoxing your body
How to lose weight with detoxification
Options for pure colon cleansing
Natural tips for detoxing easily
Recipes for home made remedies to drink
Home made remedies for skin detox
How to stay detoxed!
Bonus #4: FREE Weekly Health E-Newsletter (normally $29/year)
Dr. Conrad and I are constantly researching new health breakthroughs.  We'll share them all with you in our weekly email newsletter, delivered to your inbox free of charge.
There are natural health tips and tricks, and easy remedies that you can find right in your cupboard or the local grocery store.
Our focus is on easy and affordable remedies from Nature's pantry!
This E-Newsletter IS FREE FOR LIFE if you upgrade today.
PLUS: My 1-Year, 100% Money-Back Guarantee
My Personal, Triple Guarantee
I know you're a savvy individual, and you're looking for easy ways ensure your eat healthy, delicious meals for a fraction of the price you'd spend at the grocery store.
But you want to know that there is no risk to your hard earned money before you invest in this new superfood meal system.
So I'll do that, but I won't just guarantee your money back if you're not happy.  I'll make three guarantees for you – AND I'll double your money back to show you how serious I am.
100% Money-Back Satisfaction Guarantee. I'll warranty your superfood for a FULL YEAR. If at any time you're not happy with your mix, EVEN IF YOU DRINK ALL OF IT, justlet me know and I'll return your money, no questions asked.
Double-Your-Money-Back Performance Guarantee. I'm such a believer in this great new superfood, I'm going to bet the price of the mix that you'll love it too. So, try out American All-Natural Superfood for one full year.  Test this one-of-a-kind meal system for yourself.  If you're not feeling and looking better, I'll not only return your money, but I'll double it as an apology for wasting your time.
Customer Service Guarantee. I guarantee you'll receive the best customer service you've ever seen. If there are EVER any issues with billing or receiving your materials, just email me personally at [email protected] or you can call 970-367-7624, or write to me at The Self Reliance Association, 1815 Central Park Drive #358, Steamboat Springs, CO, 80477.  I will get back to you always within 24 hours and usually within a couple hours.  I have been so frustrated by the decline in customer service over the years in this country, that I am determined to change it for the better for our members.
So you'll get your money back for a full year if you don't like the superfood.  AND if you try it for 60 days and determine it just didn't work for you, I'll DOUBLE your money back.
It's all part of my triple guarantee, and it's only for American All-Natural Superfood customers.
We're also A-Rated members of the Better Business Bureau and TrustGuard – great companies that ensure consumers like yourself are protected if there are any issues.
Just look for 'Freedom Writers Publishing' on BBB.org
This is PERFECT for Survivalists and Preppers Too..
Maybe you're like me and you have a survival plan and even hoard food for a crisis. Well, this is perfect for that too!
Your health and satisfaction is a priority for us and we want your feedback!
Even if we didn't earn your business today, Dr. Conrad and I would just like to thank you for taking the time to read this important information.
We both hope you'll take control of your own health the way we have.
Chris Peterson                                                                                                                                                                     Dr. Patrick Conrad, MD
The Healthy Living Association                                                                                                                                    The Healthy Living Association
That meal is finally here with the American All-Natural Superfood…
"Wonderful, natural protein supplement that actually tastes good and is easy to mix for someone on the go or as a quick meal.  Very easily digested and also non-gmo.

I LOVE this stuff and recommend it to my patients all the time."
Dr. Clay Pendleton, MD
Just Choose Which Option Below is Best for You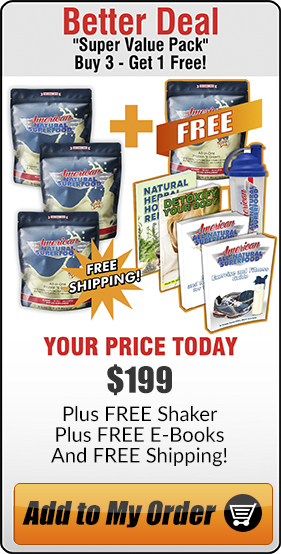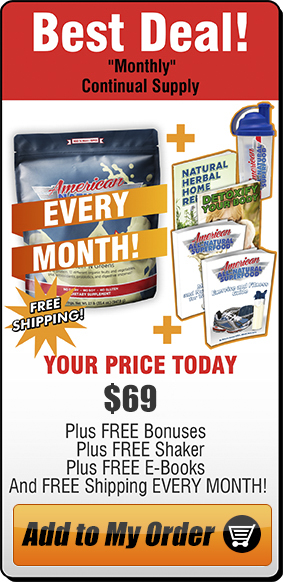 Now In Stock!  Get Your 'Fountain of Youth In A Glass' While It Lasts!
Frequently Asked Questions
Q: What are the ingredients in the SuperFood?
A: Here is the label from the actual product. Notice there are ZERO sugars (we have no artificial sweeteners) and 20 grams of protein!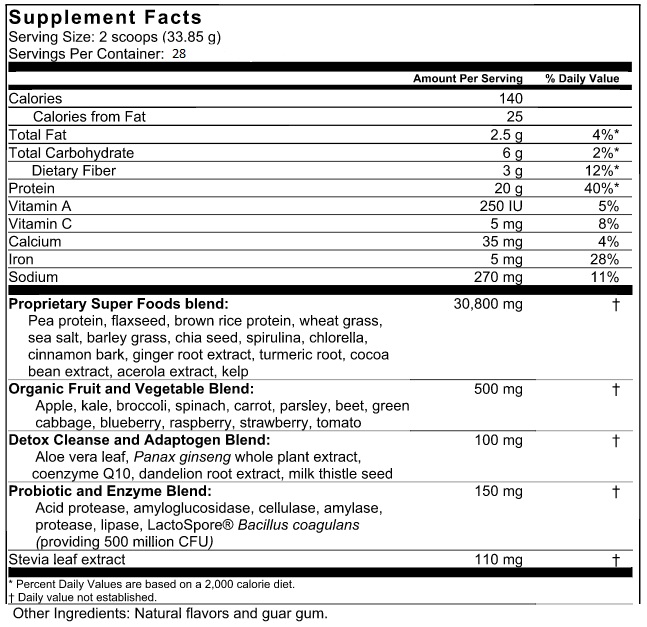 Q: What do you mix the Superfood with?
A: I like to mix it with almond milk, but many of our customers use regular milk, soy milk, or even water.  Honestly, it tastes really good with any of those options thanks to its subtle sweetness and hint of vanilla flavoring.  I do suggest taking the option with the shaker. It is much easier and faster to mix the Superfood with your favorite beverage by shaking it rather than stirring it.
Q: Where do you make this superfood powder?
A: Our superfood is created at a FDA-licensed facility in New Jersey right in here in the USA.  The facility is inspected quarterly by the FDA for cleanliness, accuracy of instruments, and food guidelines.
Q: What is the quality of your Chlorella and other ingredients?
A: Our chlorella has a partially-broken cell wall and is not high-heat treated, so it's optimized for your digestion and nutrient absorption.  As for ALL our ingredients, we make sure to add nothing but the highest quality ingredients that can be found on the market.  Our facility is tested and inspected by the FDA 3-4 times per year to make sure that what you are getting is safe and high quality.
Q: What if I'm already taking a supplement that is in the Superfood?
A: We're legally required to tell you to ask your doctor for more information on where you should take the superfood AND your existing supplements.  Each individual situation is different.  However the  levels in our superfood are such that taking this Superfood in addition to your regular supplements should not be harmful.
Q: Does the SuperFood contain any sugar?
A: No, our SuperFood contains ZERO sugars.  We use all natural stevia leaf extract to add just the right amount of sweetness.
Q: Does the SuperFood contain any soy, by any name?
A: No, our SuperFood contains no soy whatsoever.
Q: Does the SuperFood contain Vitamin K?
A: It basically has none. According to the National Institute of Health, daily recommended adequate intakes (AI) for adults is 120 mcg for men and 90 mcg for women. Our SuperFood contains 0.075 mcg per serving. This is less than 1/1000 of these NIH guidelines.
Q: What does 'natural flavors' mean in your ingredients?
A: We use natural vanilla bean flavor in the superfood.
Q: I have a food allergy, does your mixture contain gluten/soy/dairy?
A: I have a gluten intolerance as well so we made absolutely sure that there is ZERO gluten, soy, dairy, nuts and shellfish.
Q: How many servings are in one container?
A: There are 28 servings per container.
Q: Can American All-Natural SuperFood replace one or more of my meals?
A: Yes, especially if you're hoping to lose a few pounds. Sometimes, I like just like to chew on some food also to get that satisfied feeling.  So adding some fruit, nuts or yogurt to the Superfood really hits the spot.
Q: Is American All-Natural SuperFood vegan?
A: Yes, there are no animal products in our superfood.
Have a question that we don't answer here?  Just Email [email protected] and I'll get right back to you!
Footnotes:
1. Long-term effects of a Palaeolithic-type diet in obese postmenopausal women: a 2-year randomized trial. Eur J Clin Nutr. 2014 Mar;68(3):350-7. doi: 10.1038/ejcn.2013.290. Epub 2014 Jan 29. http://jama.jamanetwork.com/article.aspx?articleid=1199154
2. Pea proteins oral supplementation promotes muscle thickness gains during resistance training: a double-blind, randomized, Placebo-controlled clinical trial vs. Whey protein – Journal of the International Society of Sports Nutrition 2015 12:3 http://www.jissn.com/content/12/1/3
3.  Spirulina in Clinical Practice: Evidence-Based Human Applications,  Evidence-Based Complementary and Alternative Medicine. Volume 2011 (2011), Article ID 531053 http://www.hindawi.com/journals/ecam/2011/531053/
4. What you eat can fuel or cool inflammation, a key driver of heart disease, diabetes, and other chronic conditions, Harvard Health Publications, Harvard Medical School, February 2007 http://www.health.harvard.edu/family_health_guide/what-you-eat-can-fuel-or-cool-inflammation-a-key-driver-of-heart-disease-diabetes-and-other-chronic-conditions
5. Dietary Chlorella pyrenoidosa for patients with malignant glioma: Effects on immunocompetence, quality of life, and survival
 

Phytotherapy Research 

Volume 4

,

Issue 6

,

pages 220–231

,

December 1990
6. Nutrigenomic Studies of Effects of Chlorella on Subjects with High-Risk Factors for Lifestyle-Related Disease Journal of Medicinal Food. September 2008, 11(3) http://online.liebertpub.com/doi/abs/10.1089/jmf.2006.0180
7. Protective effects of Chlorella vulgaris in lead-exposed mice infected with Listeria monocytogenes Int Immunopharmacol. 2003 Jun;3(6):889-900. http://www.ncbi.nlm.nih.gov/pubmed/12781705
8. Beneficial immunostimulatory effect of short-term Chlorella supplementation: enhancement of Natural Killer cell activity and early inflammatory response Nutr J. 2012; 11: 53 http://www.ncbi.nlm.nih.gov/pmc/articles/PMC3511195/
9. Investigation of the effects of Chlorella vulgaris supplementation on the modulation of oxidative stress in apparently healthy smokers. Clin Lab. 2013;59(5-6):579-87. http://www.ncbi.nlm.nih.gov/pubmed/23865357
10. Rapid recovery from major depression using magnesium treatment. Med Hypotheses. 2006;67(2):362-70. Epub 2006 Mar 20. http://www.ncbi.nlm.nih.gov/pubmed/16542786
11. Magnesium: The cure to all disease?, Science Based Medicine 9/13/12 https://www.sciencebasedmedicine.org/magnesium-the-cure-to-all-disease/
12. Magnesium in Neurological Diseases and Emotions 12/8/2009 http://drsircus.com/medicine/magnesium/magnesium-in-neurological-diseases-and-emotions
13.Wheat grass juice in the treatment of active distal ulcerative colitis: a randomized double-blind placebo-controlled trial. Scand J Gastroenterol. 2002 Apr;37(4):444-9. http://www.ncbi.nlm.nih.gov/pubmed/11989836
14. Evaluation of the antioxidant activity of wheatgrass (Triticum aestivum L.) as a function of growth under different conditions. Phytother Res. 2006 Mar;20(3):218-27. http://www.ncbi.nlm.nih.gov/pubmed/16521113
15. Health benefits of taking probiotics, Sept 2005 Harvard Health Publications http://www.health.harvard.edu/vitamins-and-supplements/health-benefits-of-taking-probiotics
16. Efficacy and mechanism of action of turmeric supplements in the treatment of experimental arthritis. Arthritis & Rheumatism, 
Volume 54

,

Issue 11

,

pages 3452–3464

,

November 2006  http://onlinelibrary.wiley.com/doi/10.1002/art.22180/abstract
17. Is eating behavior manipulated by the gastrointestinal microbiota? Evolutionary pressures and potential mechanisms http://onlinelibrary.wiley.com/doi/10.1002/bies.201400071/full
18. Body fat loss and compensatory mechanisms in response to different doses of aerobic exercise–a randomized controlled trial in overweight sedentary males. http://www.ncbi.nlm.nih.gov/pubmed/22855277
19. Diet may help precent Alzheimer's, MIND diet rich in vegetables, berries, whole grains, nuts https://www.rush.edu/news/diet-may-help-prevent-alzheimers
Note: These statements have not been evaluated by the FDA, this product is not designed to diagnose, treat, cure or prevent any disease.